Charity fear over waste charges
Leicestershire charities fear council waste charges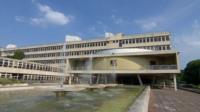 Charities in Leicestershire have said future services could be cut if council waste charges go ahead.
Leicestershire County Council has been collecting various charities' unused donated items free of charge but a fee is now being considered.
Age UK and Loros have handed the authority a petition, signed by about 4,000 people, calling on it to scrap the idea.
The county council said it has to make "significant savings" by 2019.
John Knight, chief executive of Loros, which helps deliver care to terminally ill patients, said the changes could cost Loros and Age UK a combined £50,000 a year.
While Tony Donovan, the executive director of Age UK in Leicestershire, said the future of some services could be in jeopardy.
Phil Crossland, from the county council, said: "The council has got to make significant savings by 2018-19; if we don't make the saving this way then we'll have to consider other savings."
A decision is expected to be made in the summer.